After winning the International Schubert Competition in Dortmund in 1989, Filippo Faes was hailed by the press as one of the most profound and creative performers of his generation
Acclaimed as a consummate and original Schubert specialist, Faes has performed the complete piano sonatas several times and participated in as many Schubertiade concerts
"Faes is a highly sophisticated pianist who really makes his instrument sing"
Audiophile Sound
"Faes is something special, he arouses the interest and sustains it by his very extraordinary relationship to the music"
La libre Belgique
"A moving Schubert: Filippo Faes enchanted by the musicality and sensitivity of his interpretations"
La Repubblica
"… demanding music at a high level. Thunderous applause in the sold-out Tonhalle "
Rheinische Post
7th May Sanremo (Italy)
Orchestra Sinfonica di Sanremo
Vladimir Lande, conductor
Filippo Faes, piano
Programme:
Muratore – Zephir
Beethoven – Symphony No. 5
Beethoven – Piano Concerto No. 4
Only Connect
Concert Conversations
Discover more here!
2018 – JPK Musik
Filippo Faes with Conductor Volker Hartung and the Cologne New Philharmonic Orchestra
For sheer force of power and weight, this may be the most adrenalin-rush-producing performance of this movement I've ever heard. But there's more, much more, to it than that. This is a reading that really digs deep into the score, bringing out fragmentary rhythmic and motivic counterpoints between the piano and orchestra that engage each other in interlocking exchanges that are revealed by no other performances I've heard.
2013 – Genuin
Published worldwide in five languages, the CD contains piano works by Franz Schubert, complemented by FF' own audio commentary in 5 languages with comparisons between Schubert's historical context and the context of our time.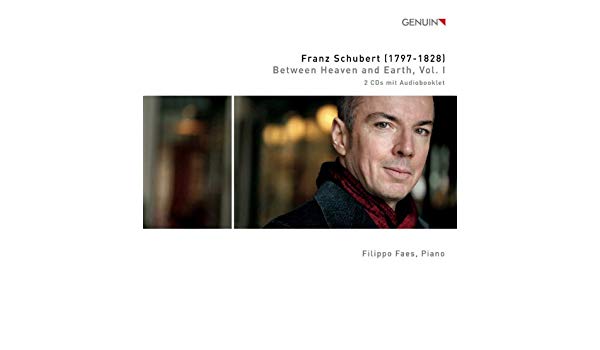 "A musician from another epoch turned into a poet by Schubert"
get in contact with
Filippo Faes